Can I keep the fish I catch? Our carp are catch and release.  In the future, we will have opportunities to keep the catfish you catch.
Do I need a fishing license to fish? No. This is because we are a private lake.
What is your Facebook page?   Please follow us on Facebook for the most up to date information and weekly happenings: https://www.facebook.com/redsfishinglake/
What type of carp are they? We are proudly stocked with common carp, also called yellow carp.  (This is NOT the same species as Asian or flying carp.)  Common carp are an exciting and challenging fish to catch that can weigh more than 20 lbs!
---
Is there a map of the lake?  Yes.  Each buoy is clearly marked in white and blue sections.  The check in and weigh area is at the top left corner of lake map.  Click to enlarge for more detail: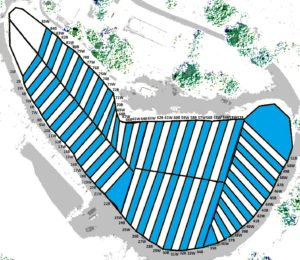 ---
Where can I learn more about American Style Carp Paylake fishing?
We have a shortened information page here: http://redslake.com/general-info-about-paylake-carp-tournaments/ or you can learn even more at: http://www.americancarpsociety.com/traditional-american-styles/